FLEX Power Regulator
EtherCAT Communication : FLEX-Type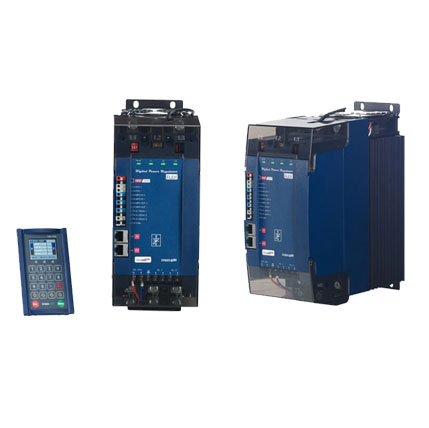 Read and write function through EtherCAT communication.
Improving power factor Distributing momentary maximum output power by sequential control through synchronization, when multiple power regulators are operated at the same time.
Possible to read and write through PSD(PARA SMART DISPLAY) or communication function. And with just one PSD, every parameter and alarm can be selected for multiple FLEX.
To detect partial load failure in multiple parallel loads.
To realize detecting partial load failure immediately and precisely through PARA-ENT its own unique auto-tuning function.




| Model | FLEX Power Regulator |
| --- | --- |
| Rated Voltage | 110V / 220V / 380V / 440V |
| Allowable Voltage Difference | ±10% of Rated Voltage |
| Rated Current | 25A ~ 200A |
| Frequency | 50/60Hz Auto detect |
| Minimum Load | 1A |
| Output Range | 0 ~ 94% |
| PCB Power | DC 24V |
| Power consumption | Max. 13W (Fan included) |
| Input signal | 4~20mA(Default) 3CH / 0~5V, 1~5V, 0~10V(Option) |
| Alarm | N.O. (2ch, Ic ≤ 1A) |
| Digital input | 1ch |
| Control method | Phase-Angle(current F/B) / Zero-Crossing(MPD Function: Option) |
| Withstand Voltage | 2.3KVAC (Step 1Min) |
| Insulation resistance | 220MΩ |
| Cooling | Cooling fan basically installed |
| Alarm | Over Current, Over Temperature of heatsink(60℃, 80℃), Fuse failure, Load Failure, SCR failure Main power failure(No alarming, LED display), FAN alarm, Partial load failure. Unbalanced load |
| Ambient Temp | 0~40℃ |
| Humidity | 40~85%RH (No condensation) |
| Communication | EtherCAT Slave (Option), RS-485 (Option) |
| Display | 3 Color LED (1EA Pilot, 1EA/Each Channel) |
| Net WT. | 25A~70: 4.2Kg / 90~200A: 9.0Kg |