MULTI Power Regulator
Three in One Digital Power Regulator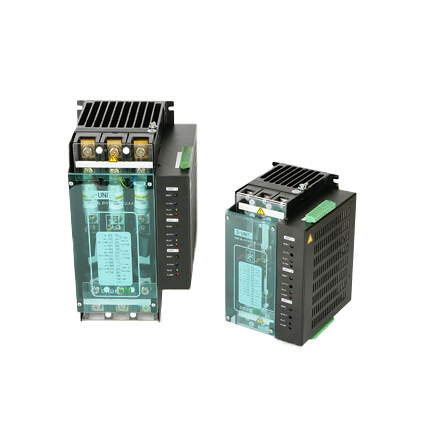 Three single phase controllers in one unit to save space and expense.
Operated by one temperature controller(output is same) or three temperature controllers(separate operation). And also used as one three phase regulator(Only on three-phase four-wire system)
With high accuracy, stability and reliability.


Three in One
One unit including three single phase regulators saves space.
Suitable for multiple power regulators or SSR's.
Different control method or different rated current can be mixed up.
Capable to be used three single phase regulators or one three phase regulator(Three phase four wire system)
Operated by three temperature controllers or just one temperature controller.
Saving expense and space
More economical and more spacious than three single phase regulators.
Accuracy, Stability and Reliability
Accuracy is enhanced by compensation algorithm comparing to different regulators.
Long experience and know-how for digital technology since its first domestic digital power regulator allows it to be placed on the top of stability and reliability.